Perfumare
A downloadable game for Windows, macOS, Linux, and Android
A dark fantasy visual novel with elements of mystery and romance set in a fictional world not so different from ours, where some people are born with a strange affliction called 'the gift'.

Perfumare (Visual Novel) is a teaser of the Interactive Fiction (text-based game) Perfumare: Avulsion [WIP] and as so, it only showcases the key scenes of the secondary plot (3 branches) leading to one of the two "common" endings or several 'miscellaneous' endings.
Perfumare (Visual Novel) can be played as a standalone and doesn't require any knowledge of Perfumare: Avulsion. Do bear in mind that the content is shorter, scenes are skipped and the pace is rushed to keep all three routes equal in length.
Romance and friendship routes (romance-leaning in this demo, but you can finish the game as only-friends with the RO if you want to check their route but don't want to romance them).
Suggested order: Reed - Jewel - Laurent
Main differences between the demo and the IF:
- the demo is a Visual Novel, the full game is text-based (public version),
- only one ending seen in the demo carries out to the IF (it ends the arc I), others should be treated as non-canon,
- the IF doesn't contain any dead endings, even if a certain scene would have resulted in MC's death in the demo, it doesn't in the IF,
- the IF presents more ways to deal with a problem., In the demo I went with one/two options I found more interesting to write,
- there are things MC knows in the demo that they don't know in the IF, namely the type of relationship (which is strictly business partners) Reed has with his 'friends' etc.

Setting: dystopian urban/dark fantasy

Tags: crime, mystery, romance (it is not a horror game)
Amnesia isn't a tag because a)it's temporary b)it's used to introduce players to the setting.
Warning: Violence, explicit language, drug portrayal (including alcohol and tobacco), themes of death and suicide.
Rating: 17+ (public version)

- A nameable protagonist defined through in-game choices,
- She/her, they/them and he/him pronouns to choose from,
- 3 Romance Options: 2 male and 1 female,
- 3 Routes, each with a unique storyline,
- Choices that matter (lead to a different outcome/scene) and choices that let you customize your MC (the way they look, react to certain things and their opinions).
- Words in total AS OF CHAPTER VI: 170 000
- Words per route AS OF CHAPTER VI: 83 000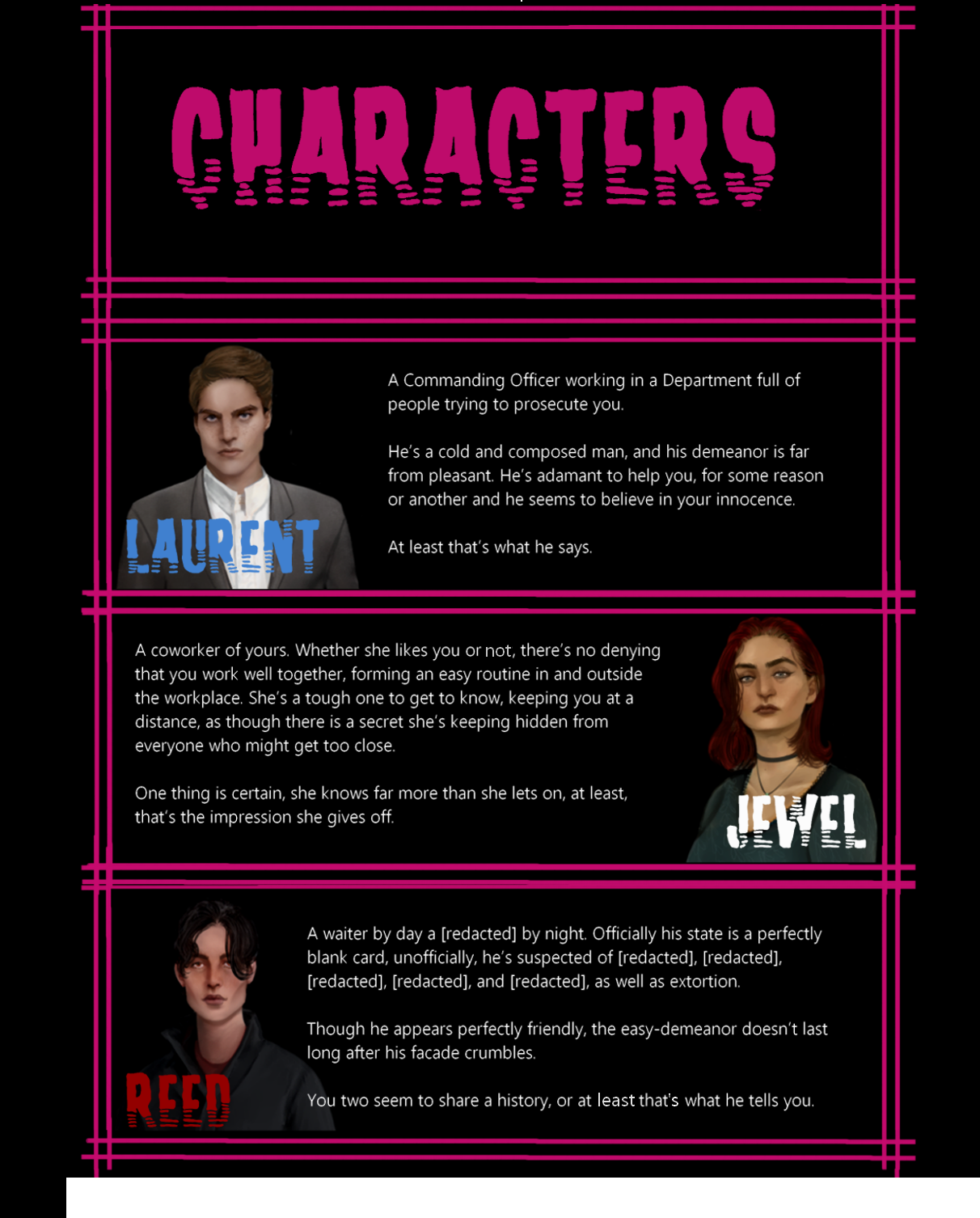 Character profiles:
Jewel: your coworker of three years. Best described as 'pessimistic' and 'prepared for everything'. Though she seems distant and aloof she is sweet and caring to those who earned her love and trust, but merciless and unforgiving to those who abused it.
Reed: your ex-classmate and childhood friend all in one. Best described as 'that one smirky bastard' and 'a ride-or-die'. He's not very effusive, and sometimes it's hard to tell if he means the things he says or if he's plotting something nefarious at other's expense.
Laurent: an SPD agent and an unlikely friend you've met by chance a year or so ago. Best described as 'austere workaholic' and 'perfectionist to a fault'. He's like mentos; hard on the outside and soft on the inside.

Public version: PG 17+
This game contains scenes of explicit violence, strong language, drug portrayal (including alcohol and tobacco), themes of death and suicide.
Proceed at your own risk.

Visual Novel Engine: Ren'Py by Tom Rothamel

Writing: PDRRook
Coding: PDRRook
Background art: PDRRook
Sprite art: PDRRook
Additional art and design: PDRRook
Proofreading and editing: Jeneara, thefoxthefox, Pugsie, Pauline (Chapters I-V), pheranthes (Chapters I-II)
Language consultant (Italian): Sciambalala
Fonts, Free for Personal and Commercial Use:
Textures: CC0textures

Music licensed under the Attribution License:
More credits in-game (for the CC0 music/sounds.


Abby ✰ Aileani ✰ Anna Maria ✰ Anna R. ✰ Aonith ✰ Becca ✰ Boo ✰ Brynna D. ✰ Ceinwin ✰ Chaeldra ✰ curtsy ✰ Dana ✰ del ✰ Deliquescere ✰ Emily M. ✰ freya ✰ Gizelle H. ✰ haledamage ✰ Ilonka L. ✰ Jacob ✰ Juhasz B. ✰ Julija A. ✰ Kassandra V. ✰ Kat V. ✰ KCups ✰ kingdom-dance ✰ Krissy ✰ Kujo ✰ LizzyTinker ✰ Marianne ✰ Meira L. ✰ mintie ✰ Mivek ✰ morrigan p. ✰ mothermayhem ✰ mrissti ✰ neridavale ✰ pugs ✰ Qtie ✰ Queen of Antiva ✰ Reid ✰ RougeDavo ✰ Sabrina R. ✰ Sheena F ✰ Shuris ✰ Starlight ✰ Steph M. ✰ Sybylladella ✰ TeaAndStrumpets ✰ Twirly Muffin ✰ Valeria ✰ Vile Youth ✰ Will B.


Sybylladella ✰ Mif4n ✰ Squirming Shadow ✰ Reni
Perfumare:Avulsion [IF]: WIP, not available publicly. ETA: when it's done (I'll update the main page with a link.)
About the dead/neutral endings: as you may already know, this demo is my first ever project, and I use it to learn and experiment. As such, I was tempted to test and implement neutral and dead endings into the narrative. I soon discovered that I don't like this approach, but it is, nonetheless, something that plays a great part in the demo for consistency's sake.
Some of the mini guides for the early chapters can be found on my Ko-Fi (free to read, the rest is explained [here]. As a hint, I can say that the early choices matter, the ones that don't give you an immediate result.
My antivirus doesn't let me open the game/ I get a virus warning, why?
It's a false positive, which is a common issue if you play indie-made games. You can read more about it [here] and [here] and [here] and [here] or you can contact your antivirus providers and/or support so they can check the files for you.
Please check the full [FAQ] before asking a question. Thank you!
If you want to let me know about a bug/error/mistake you've found, check out this (anonymous) questionnaire: [click here]. Thanks!

[Twitter] [Tumblr]
PFM Quiz: [here]
Merch via Redbubble [here]
Discord: @me (pdrrook@gmail.com)
Extra content: [Ko-Fi] [Patreon]
PLAYLISTS: [Jewel] [Reed] [Laurent] [Nino] [Flavio] [Alan] [Perfumare]
| | |
| --- | --- |
| Updated | 15 days ago |
| Status | In development |
| Platforms | Windows, macOS, Linux, Android |
| Rating | |
| Author | PDRRook |
| Genre | Visual Novel |
| Tags | Atmospheric, Crime, Dark Fantasy, Dystopian, Female Protagonist, Mystery, Romance, Story Rich |
| Average session | A few hours |
| Languages | English |
Download
Click download now to get access to the following files:
PerfumarePublicVersion-1.6-mac.zip
208 MB
PerfumarePublicVersion-1.6-pc.zip
226 MB
com.pp.perfumare-106-universal-release.apk
228 MB